The Cambridge Art Academy Blog: Northamptonshire landscape, painted with pastels | View All Blogs | Back
Northamptonshire landscape, painted with pastels
Posted On: Tuesday 25th September 2012
Summary: Northamptonshire is an English county that is easily overlooked, but it is a gentle landscape which translates well, I think, into pastsls

Blog Tags: Landscape painting Outdoor painting Plein air Pastels painting Simple art Painting trees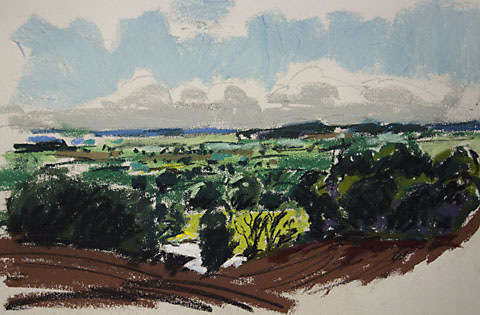 This view attracted me becuse it was a simple composition - dark woods framing a distant view, anchored by dark brown ploughed fields in the foreground. It caught my eye as we were motoring along in the south Northamptonshire countryside near Canons Ashby Manor where we were staying for the weekend.
There are parts of this that please me beause they are not so easy to get right with pastels - the distant cumulus clouds, the dark shadows cast by the trees over the sunlit ploughed field, and the hint of mauve in the shadows of the trees themselves.
Pastels are, I feel, so well suited to quick gestural sketching - I did this in less than half an hour and haven't felt the need to add to it back in the studio.
11"x8" soft pastels on ingres paper.
Blog Archive
View All Blogs