The Cambridge Art Academy Blog: Charcoal sketch Fairhaven Singers practice in St John's College Chapel - 4 | View All Blogs | Back
Charcoal sketch Fairhaven Singers practice in St John's College Chapel - 4
Posted On: Tuesday 29th March 2011
Summary: This is a recent charcoal sketch on newsprint paper done at a practice session of the Fairhaven Singers in St. John's College Chapel, Cambridge. This took about ten minutes to do. Dame Emma Kirkby was the featured soloist

Blog Tags: Sketching Painting in Cambridge People Buildings Charcoal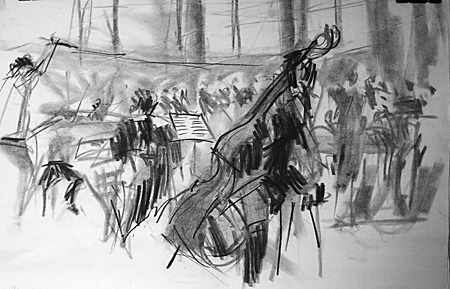 I'm still trickling out my sketches of the Fairhaven Choir practice from a couple of weeks ago. I managed to do 7 in the space of an hour and a half. Charcoal is amazing. I seem to remember being given a piece of charcoal to draw with at school 45 (ahem!) years ago and thinking at the time what kind of joke was this. School has a lot to answer for! Still!
And now I love charcoal. The thing is this - what medium is so versatile - lines, smudges, dark and pale, take anywhere? And best of all you very quickly forget
what you are drawing with
and get absorbed
with what you are drawing
. So this would be my desert island luxury. No it wouldn't. A full set of oil painting gear would be the luxury and I would make the charcoal myself!
I like the bass in the foreground - but I sense I got into trouble with the player by saying to her that I admired her 'cello. Later I ventured that the band she was playing in was very good in my view - I don't think it improved the vibe though...
Blog Archive
View All Blogs