The Cambridge Art Academy Blog: Interior view in pastels at Canons Ashby Manor House | View All Blogs | Back
Interior view in pastels at Canons Ashby Manor House
Posted On: Wednesday 12th September 2012
Summary: I painted this in soft pastels inside the lounge at Canons Ashby, an historic Manor House in the rolling countryside of Northamptonshire in the UK

Blog Tags: Pastels painting Buildings Painting interiors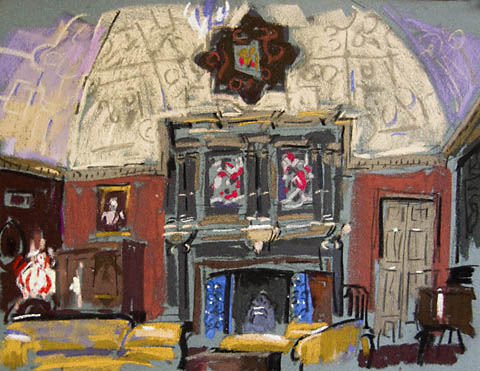 Judy and I stayed in this National Trust manor house for a weekend in early September. When all the visitors to Canons Ashby had left, and the door to the formal gardens locked, we had the place to ourselves - well, the gardens and the flat in the tower anyway. A very special place indeed.
Canons Ashby is an Elizabethan Manor House and dates back to 1550, built by the family of the first poet Laureate, John Dryden. It's still owned by the family, but now looked after by the National Trust. It has not been altered since 1710.
If you want to stay there, in the very old and beautiful flat,
click here
. Mind you, there's no TV, no internet, no mobile signal, no radio. All the Landmark Trust places are the same. We love them.
We didn't get to use the lounge, but I was able to paint it in pastels during the day. If all the walls look a bit askew, that's because they are. This part of the house was about to collapse before the National Trust stepped in and strengthened the structure with hidden steel beams. Anyway, enough of that - as a painting subject it was magnificent - rich colours, soaring perspective. Difficult to draw actually. All the light was coming through the tall windows behind me which again made the lighting quite flat. More than compensated for by the rich saturated colours and varied forms.
9"x12"
Blog Archive
View All Blogs