The Cambridge Art Academy Blog: Nocturne in pastels - the new pond | View All Blogs | Back
Nocturne in pastels - the new pond
Posted On: Sunday 9th September 2012
Summary: For this nocturne I sat outside looking in on the party with a strong composition formed by the reflections in the pond. Done with soft pastels

Blog Tags: Plein air Painting in Cambridge Pastels painting Townscapes Nocturne painting People Reflections in water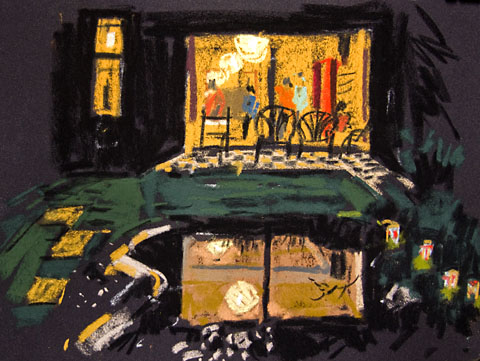 I was invited to the 25th wedding anniversary of an old friend of mine and to celebrate he had dug a pond - which is already inhabited by several grogs.
So we went along last night and I took my pastels - like the wedding pastel I did a few weeks ago I thought that a special occasion merited a small artistic memento. I sat outside on a chair and did this using soft pastels on pastel paper. How did I paint in the dark, you may be wondering? I took with me one of those small LED torches that strap onto your head. Worked a dream.
The composition was easy, looking on on the party with the reflections shining across the new pond. I was pleased to get the reflections about right - slightly more muted than the direct light, and a bit darker too.
9"x12" softn pastels.
Blog Archive
View All Blogs