The Cambridge Art Academy Blog: Nimlet, Bath, storm approaching - an oil sketch | View All Blogs | Back
Nimlet, Bath, storm approaching - an oil sketch
Posted On: Tuesday 4th September 2012
Summary: A view, sketched in oils, over the hills and valleys north of Bath, England, wih a rain storm fast approaching

Blog Tags: Landscape painting Outdoor painting Pochade painting Simple art Painting in the rain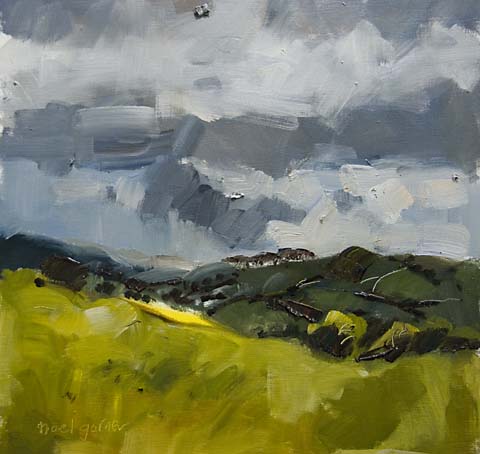 I cannot realistically call this a "study", because that implies I had time to think. And this was not the case. Almost as soon as I sat down I could see the mist of heavy rain approaching on the distant hills.
And when I could feel a sudden cold wind blowing into my face I knew I had just a few minutes to get everythign packed away and get back to the road. For once I got it right; however I managed a fast oil sketch which I think expressed the falling rain in the distance quite well.
During the second world war, German bombers would come up this valley from their raids on Bath, and if they had any unused ordnance, would drop them in the fields more or less where I was sitting. The locals can still point out the hollows where the bombs exploded.
Blog Archive
View All Blogs