The Cambridge Art Academy Blog: St Ives from Hayle Cornwall - painted in pastels | View All Blogs | Back
St Ives from Hayle Cornwall - painted in pastels
Posted On: Monday 3rd September 2012
Summary: A distant view of St. Ives, Cornwall, painted in pastels from across the estuary at Hayle. Brilliant light and a stiff breeze blowing

Blog Tags: Landscape painting Boats Outdoor painting Plein air Pastels painting Buildings Reflections in water Painting rivers Painting water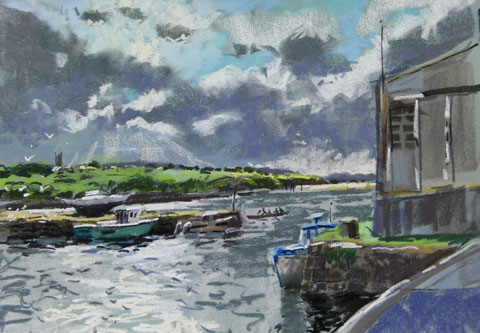 Late afternoon summer sun at Hayle in Cornwall. On the far horizon is St. Ives, the famed home of artists for a century or more . They came for the light - and the light was breathtaking now - as indeed was the stiff breeze blowing in my face.
Actually I would have preferred to stand right on the corner where the bollard is - but I could never have held my easel down in the wind. Where I stood was much more sheltered. On such insignificances are the outdoor painter's decisions made! The concrete shed on the right was a pretty shabby structure, but I brought it into the picture to anchor the composition and create a sort of zig-zig of lines running up the frame.
13"x19" on grey ingres pastel paper.
This just about wraps up the Cornwall trip, and I'm now miles behind on blogging the paintings and sketches I have done in the last three weeks.
Blog Archive
View All Blogs