The Cambridge Art Academy Blog: Low tide at Mevagissey harbour in Cornwall - pastel painting | View All Blogs | Back
Low tide at Mevagissey harbour in Cornwall - pastel painting
Posted On: Wednesday 22nd August 2012
Summary: Mevagissey is a bustling little fishing village in Cornwall, and I painted this pastel into the sun as the low tide was turning

Blog Tags: Boats Outdoor painting Plein air Pastels painting Painting rivers Composition Painting water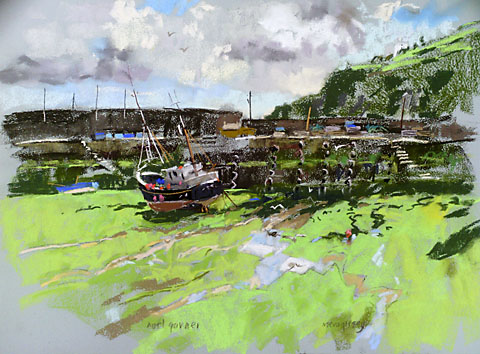 At low tide in the bright sun all the green sea weed was an almost emerald colour, and as the water crept up behind the boat in deep shadow, a contrasting deep area of green was slowly extending its fingers towards me. Other views had many boats (see post tomorrow) but in this part of the harbour there were only a few and this made the composition stronger and simpler, I felt.
The place was packed with tourists so I had plenty of people "in the gallery". Before I started this (13"x19" on colorfix paper) I did a really small version to "warm up". A young couple liked it so much and were so genuine I simply said "Would you like it?" They couldn't believe it when I put it in their hands after giving it a quick spray of fixative. They were genuinely touched. Sometimes giving people a simple bit of unexpected pleasure is better reward than selling a painting. This was one one of those occasions, and cost me nothing!
I totally enjoyed doing this pastel. The medium suited the subject, and I had a perfect painting spot. I suspect countless artists have stood there. But I don't mind; this is dedicated to the lovely village of Mevagissey.
Blog Archive
View All Blogs