The Cambridge Art Academy Blog: The first and last paintings done on holiday in Cornwall - pochade box with oil | View All Blogs | Back
The first and last paintings done on holiday in Cornwall - pochade box with oil
Posted On: Tuesday 21st August 2012
Summary: The first painting is always a frustration, and the last one done on a painting expedition often feels like the best. Here are my first and last pochade box oils done on a recent trip to Cornwall

Blog Tags: Landscape painting Oil painting Outdoor painting Pochade painting Plein air Nocturne painting People Reflections in water Painting water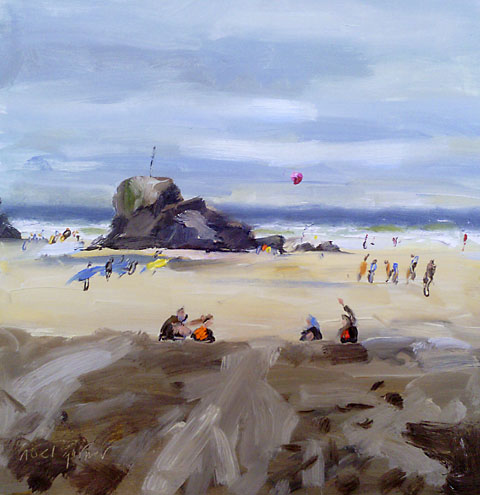 A recent painting expedition took me to Perranporth in Cornwall once again to stay with friends. I know the beach there now pretty well and it was no surprise to find it raining on the first day when we strolled down to the sands to see if by some miracle since last year the evolutionary processes had worn away the large rock that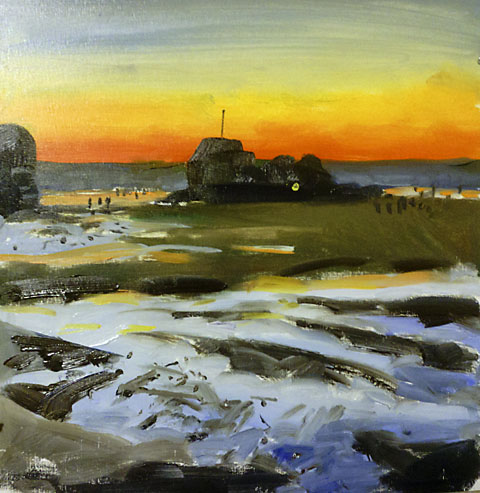 dominates the scene. They hadn't.
So we had a beer at the beach bar outside on the porch where the smokers gather (smoking not being allowed in the UK these days indoors in public buildings) and I propped up my pochade box and painted in oils on board what was there. Which wasn't a lot. However the rain eased off and people came out to play. The point of all this being I was pretty disgruntled with the result as seen here.
But by the end of the week, the juices were flowing rather better and I did this sunset from the nearby car park by the light of a bright orange street lamp. Honestly, I had little idea what I was painting, but I was pleasantly surprised by the result when I got it under a good light.
A nice end to an enjoyable few days painting in Cornwall. More to follow of what I painted whilst I was there.
Blog Archive
View All Blogs