The Cambridge Art Academy Blog: Sketches from the Niger Delta - 8 pencil sketches from the boat | View All Blogs | Back
Sketches from the Niger Delta - 8 pencil sketches from the boat
Posted On: Wednesday 15th August 2012
Summary: On the way upriver in the Niger Delta to Bomardi where the first bridge over the river is located I did these pencil sketches as fast a possible as the boat rocketed along, weaving in and out of the floating weeds

Blog Tags: Boats Sketching Painting rivers Painting water Quick painting How to sketch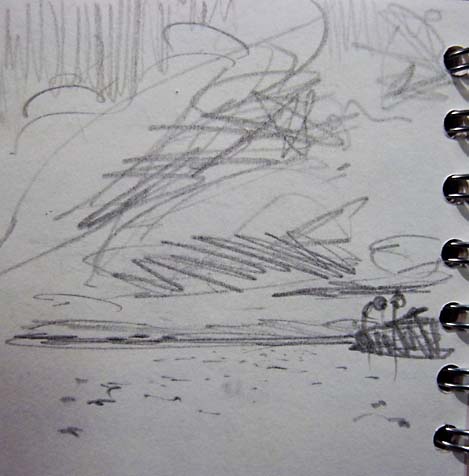 I did these small sketches on a boat as we sped back up the Forcados river in the Niger Delta to the first point (from the sea) where there is a road bridge. It took about an hour in a long, open boat with a heaving great Yamaha engine strapped to the back. The river was awash with clumps of floating hyacinth. The smaller bits would just clog up the prop (which it regularly did, and necessitated stops to disentangle them) but the larger clumps were like small islands which I reckon would launch your boat skywards if you hit one.
This was one heck of a busy day. We left the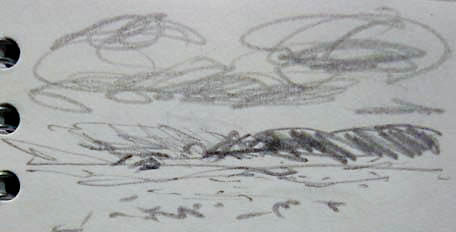 village at 6am Got the boat to Bomardil from where a hectic drive (not hectic to my friend David mind you, who seems utterly blase about hurtling along on a road that abruptly can switch from smooth to lunar craters, and weaving in and out of large overladen lorries which typically may have a Bible text on the back plate as a sort of protective talisman. My personal favourite is "When I see the blood, I will pass over you. Exodus 12 v.13" , which I have to say did make me gulp!) for 3 hours to Benin.
Then a wait.
Then flight to Lagos. Cross town to the international airport (6pm by now) Lufthansa to Frankfurt, Frankfurt to Heathrow - passing low over the Olympic stadium the morning after the opening of the Games. Arrive 8am Then drive back to Cambridge - collapse mid afternoon at home. Wonderful!! It's hard to explain just how smooth that journey home was. The only hitch we had was when the local airport in Lagos was closed to allow a dignitary to land, leaving the rest of us in a holding pattern for nearly an hour with, I imagine, our captain tapping the fuel gauge with one finger.
Tomorrow is my last Delta post, then I must catch up on everything that's happpened on the painting front since then.
Blog Archive
View All Blogs