The Cambridge Art Academy Blog: The Mill Bridge at Duddington - a plein air pastel | View All Blogs | Back
The Mill Bridge at Duddington - a plein air pastel
Posted On: Thursday 28th June 2012
Summary: A pastel painting of the bridge at Duddington, Northamptonshire, UK , partly painted plein air, and finished in the studio

Blog Tags: Plein air Pastels painting Painting rivers Painting trees Painting in the rain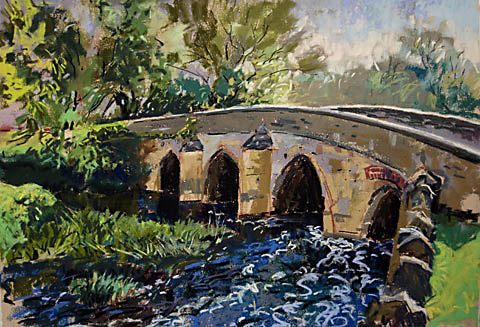 To be honest, this is a bit of a backward step - although there's plenty of movement in the subject of this pastel painting, somehow I have got all tied down in detail. There's something not very joined up here.
Never mind, it's a nice subject. Only briefly was I tempted to put in someone leaning over the bridge - a terrible cliche. Well, in this case it would have been.
I got about half of this done on location before it started to rain, and worked some more on it over several days in my studio. Lots of stop and start - perhaps that was the mistake.
13"x19" hard and soft pastels.
Blog Archive
View All Blogs