The Cambridge Art Academy Blog: Painting of Big Ben | View All Blogs | Back
Painting of Big Ben
Posted On: Friday 8th June 2012
Summary: Plein air painting in oil of Big Ben, London, from Parliament Square, just after a rain shower

Blog Tags: Oil painting Outdoor painting Plein air Painting in London Townscapes People Buildings Painting in the rain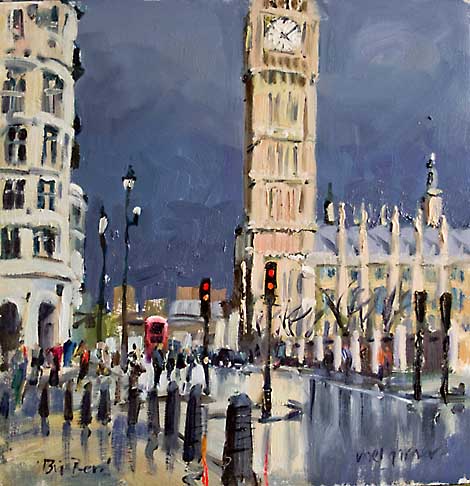 This was painted plein air in central London several weeks ago. It's 10"x10", oil on board, and is available for purchase in the
online store
for £60 (Paypal) includnig postage.
A video shot on location at the time is
here.
Having walked down Whitehall, dodging the showers, I arrived in Parliament Square to see Big Ben silhouetted in reverse by the afternoon sun with heavy rain clouds behind it. Surpringingly I found a quiet spot to paint from even though there were literally thousands of people milling around.
Blog Archive
View All Blogs