The Cambridge Art Academy Blog: Buckingham Palace in pastels from the Mall in London | View All Blogs | Back
Buckingham Palace in pastels from the Mall in London
Posted On: Sunday 27th May 2012
Summary: Strong sunlight filtered through the London Plane trees on the Mall provided a great setting for painting Buckingham Palace in pastels

Blog Tags: Outdoor painting Plein air Painting in London Pastels painting Townscapes People Buildings Painting trees People in paintings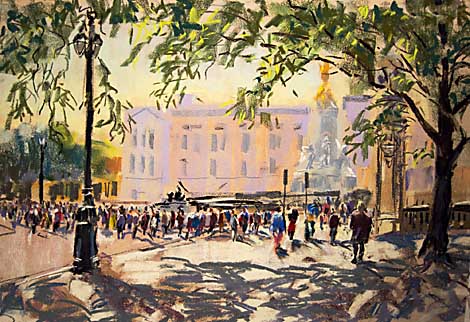 When we arrived in central London on Tuesday last week to attend the Queen's Garden Party at Buckingham Palace, the officials guided us to a parking place right at the head of the Mall - as near to the Palace as it's possible to get. Fantastic! All I had to do was get my easel out from the back of the car and set it up there and then.
I got most of this done (13"x19" on colourfix pastels paper) in about an hour, and finished the rest from memory when I returned to Cambridge. I'm pleased with the hazy appearance of Buckingham Palace in the background, and the tree shadows in the foreground.
I painted in my scruffy painting clothes and got some funny looks from people passing by on their way to the Garden Party all dressed up in their finery. But I did change into my suit before going in. I so wish I could have painted in this size with all my pastels in the garden. Maybe I should ask!
Blog Archive
View All Blogs