The Cambridge Art Academy Blog: Farmyard birds in pastels | View All Blogs | Back
Farmyard birds in pastels
Posted On: Saturday 19th May 2012
Summary: Surrounded by a clucking melee of farmyard birds, I set out to sketch as many a possible using hard and soft pastels

Blog Tags: Boats Painting in Cambridge Pastels painting Birds Painting animals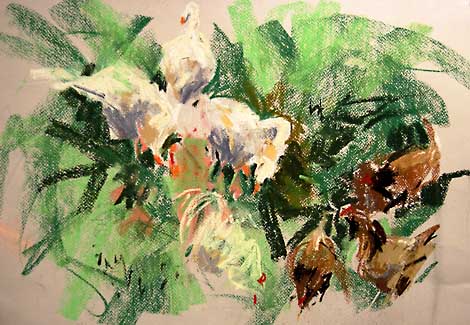 A recent visit to my friend Ro's riverside hideaway near Cambridge offered a wealth of subjects to paint, notably chickens and geese. She kindly threw out some feed and soon tweny or so birds were scurrying around for me to paint in pastels. I say "paint" rather than "draw" in pastels because, as Corry Kooy pointed out to me, pastel is really a painting medium, just without the liquid. It was a great comment which I keep reminding myself of whenever I'm tempted to draw with soft pastels as though I'm holding a pencil. I'm not, I'm holding a flat bit of paint!
I digress...
It was tricky making sense of all the movement - I just had to go with the flow. But it highlighted the need to concentrate on just a few birds, which was what I did on the next smaller pastel: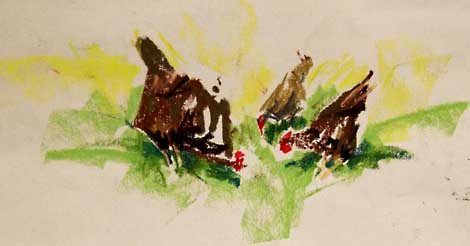 The geese soon settled down to some serious sleeping so I had another go at them in pastels - lots of subtle whites, cream and purple-grey. The cockerel on the right is miles out of scale (the geese are much the larger) because he was actually a seperate sketch. However, he fits in quite well here: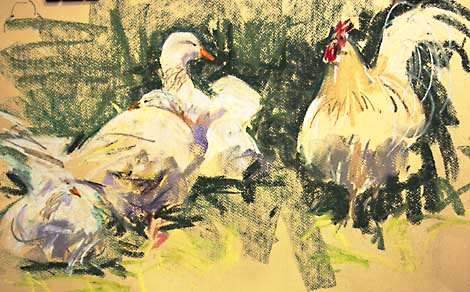 In the middle of all this a small steam launch pulled into the little dock so I rushed over the do a very fast pastel sketch while the owner, John, was getting ready to haul it out of the water. What a fantastic subject - steam, colour, lines, curves. I hope to get another chance to paint this lovely boat. There's a bit missing where I tore off a bit of paper to give my contact details to John so, hopefully, I can meet up with him when next "steam's up"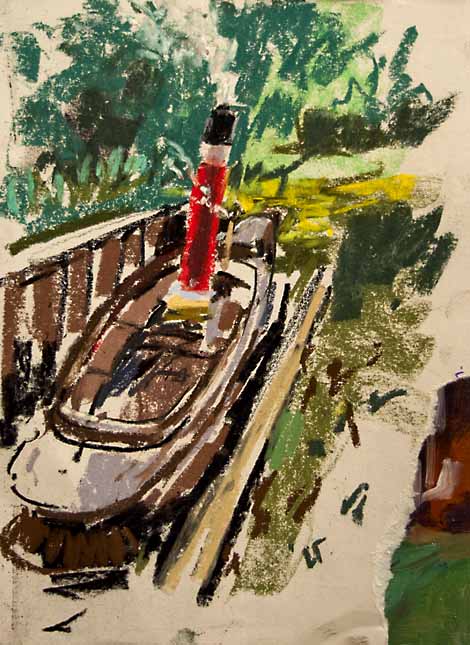 All in all a very enjoyable couple of hours with pastels.
Blog Archive
View All Blogs