The Cambridge Art Academy Blog: Pastel sketch at St Catherine Dock, London | View All Blogs | Back
Pastel sketch at St Catherine Dock, London
Posted On: Friday 18th May 2012
Summary: A small pastel sketch of a sailing barge painted on locations in St Catherine Dock in London

Blog Tags: Boats Outdoor painting Painting in London Pastels painting Townscapes Buildings Industrial buildings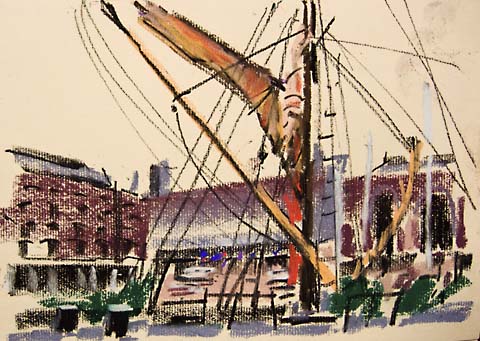 Another small pastel done last Monday while in London. This one is in St. Catherine Dock near to Tower Bridge on the North Bank. I was sitting outside Starbucks and really there was only one subject - the interlocking and interlacing shapes of sheets and masts on a sailing barge tied up at the quayside.
These old barges used to be the main way of transporting goods along the coast from East Anglia to London, the few remaining ones are well maintained and an attraction in their own right. I've painted them at Pin Mill, Suffok, several times.
I was using my small pastel box for this sketch.
Blog Archive
View All Blogs