The Cambridge Art Academy Blog: Sketch in pen and crayon of Nelson's column in central London | View All Blogs | Back
Sketch in pen and crayon of Nelson's column in central London
Posted On: Wednesday 25th April 2012
Summary: Still raining, this sketch is a bit closer to Trafalgar Square in London and shows Nelson's column in the background and the portico to St. Martin in the Fields to the left.

Blog Tags: Outdoor painting Plein air Painting in London Townscapes Buildings Reflections in water Simple art Painting in the rain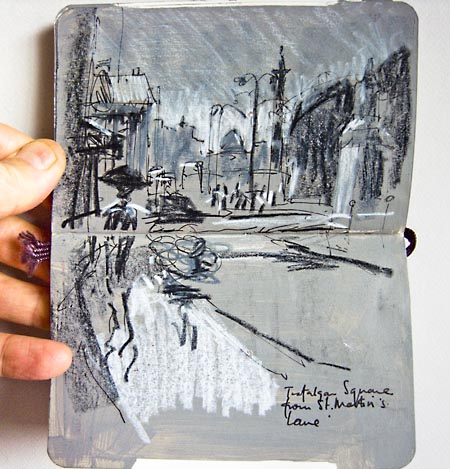 Although the rain wasn't much fun since I didn't have an umbrella, the light and the reflections in the wet road looking towards Trafalgar Square and Nelson's Column were interesting and an important part of the sketch.
There was little colour apart from the bright red stop lights on cars, London buses and a typical public telephone box. Can't wait to translate this into an oil or oil pastel painting.
Pen and neocolor pastel in a moleskine notebook.
Blog Archive
View All Blogs