The Cambridge Art Academy Blog: Great Chishill windmill painted at sunset in oils with a palette knife | View All Blogs | Back
Great Chishill windmill painted at sunset in oils with a palette knife
Posted On: Thursday 12th April 2012
Summary: I started this the same evening as the pastel shown two days ago. Begun in traditional oils, then back in the studio finished using a palette knife. Great Chishill is a magnificent sight at sunset with its massive white sails facing West.

Blog Tags: Oil painting Pochade painting Art techniques Nocturne painting Windmills and mills Buildings Industrial buildings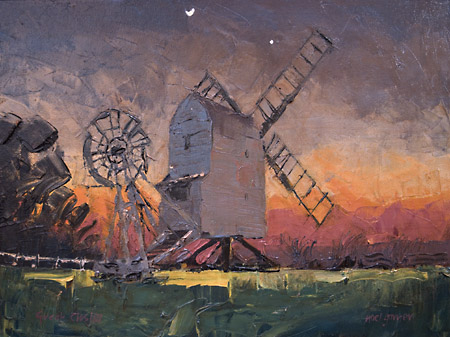 This is now the third time I have painted Great Chishill windmill. The
first time in watercolour
, the second
in pastels
, and now in oils using a palette knife. Not sure I like this version, but I wanted to do something totally different from the pastel painting.
Straight after spending maybe 30 minutes starting with the pastel painting, I moved into the car park close to the mill to make another start - this time in oils - before the light totally failed. The setting sun was magnificent, with a crescent moon and Venus to boot.
Yesterday was spend in Great Chishill village hall at a day conference attended by over 90 people from the village and interested parties from much further afield who are prepared to work together to see the windmill restored to full working condition.
I displayed a good number of my windmill paintings, sold a few, and the pastel of the windmill I posted a few days ago was bought in an auction in aid of the windmill by the landlord of the village inn. So next time I hope to see my painting on one of the walls of the bar.
Blog Archive
View All Blogs