The Cambridge Art Academy Blog: Pastel painting of spring blossom - magnolia and forsythia | View All Blogs | Back
Pastel painting of spring blossom - magnolia and forsythia
Posted On: Tuesday 10th April 2012
Summary: The magnolia and forsythia blossom is nearly over, but for once I actually caught it before it was all over for another year.

Blog Tags: Outdoor painting Painting in Cambridge Pastels painting Flowers Painting trees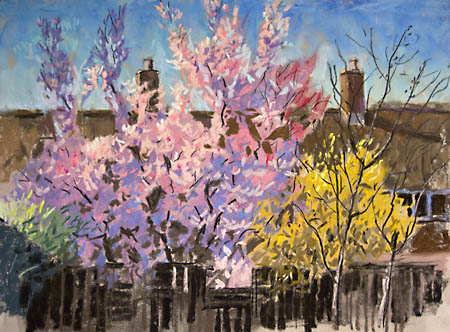 This magnolia and forsythia tree are in my next door neighbour's garden, and because I can see the blossom every day when it's out, year after year I manage to miss the opportunity to paint it.
Not this time. I'm still working with pastels as much as I can (
see yesterday's comments
)
I set up my pastels and easel in their garden a couple of weeks ago late in the afternoon. The difference in both values and hues in the sunlight compared with the shadows was massive. That plus the mass of lovely small shapes made this a fascinating subject, which I finished yesterday in the studio.
The real colour of magnolia blossom, by the way, is nothing like the colour that is called "magnolia" on tins of household paint. The real thing of course is affected by shadows, sunlight and the variation of the local colour of the bloom itself.
Carre and soft pastels on tinted pastel paper 12"x18"
Blog Archive
View All Blogs