The Cambridge Art Academy Blog: Pastel painting of Great Chishill windmill at sunset | View All Blogs | Back
Pastel painting of Great Chishill windmill at sunset
Posted On: Monday 9th April 2012
Summary: Great Chishill windmill looked special in the evening light and here I tried to capture an unusual viewpoint on location using pastels

Blog Tags: Landscape painting Outdoor painting Plein air Pastels painting Windmills and mills Buildings Painting trees Painting tips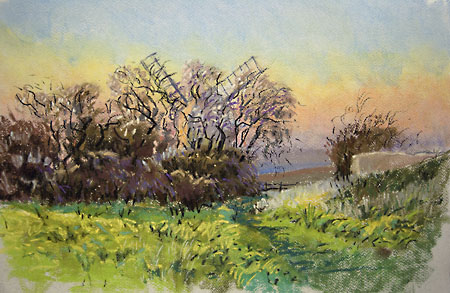 Still with pastels at the moment because in a month's time I'm going to the Netherlands to do a one day course with Corry Kooy, and the best way to get the most out of a course like this is to go as practised as I have time to be. I know you can get a lot from a teacher like Corry even when you are a complete starter, and you have several days (I know she does longer courses) to work on it.
But I have only one day and I've got to hit the ground running. If you are looking to improve your painting skills through a painting course, it's a good idea to "limber up" in advance so that you learn as much as possible when you get there. There may be better pastellists out there (I'm sure Corry would say there are) but she is top league as far as I am concerned, and paints in a style which inspires me. This is so important. You can only learn from someone whose work you like. Here's a
link to her website
.
This is an pastel drawing, 12"x18" , on pastel paper, begun on location as the sun was setting, and finished in the studio. It's a windmill in a small village called Great Chishill, and I've been invited to exhibit
my windmill paintings
at a day conference later this week to promote its restoration to working order. So I'll show this one to them.
Blog Archive
View All Blogs