The Cambridge Art Academy Blog: Pen sketch of St Mary le Strand London | View All Blogs | Back
Pen sketch of St Mary le Strand London
Posted On: Thursday 5th April 2012
Summary: A fountain pen sketch in the Strand of St. Mary le Strand

Blog Tags: Sketching Plein air Painting in London Townscapes Buildings Simple art Quick painting Pen and ink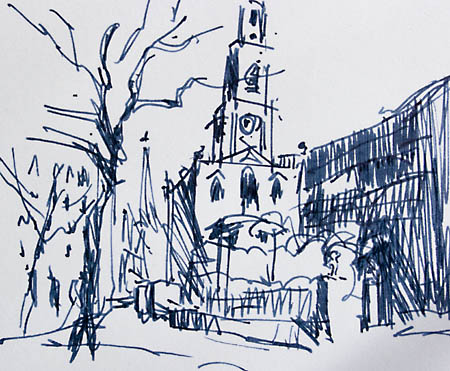 Another quick sketch in central London of St. Mary le Strand.
As I was sketching this a group of students came up to me and asked if I could help them tick off a task that they had to achieve and phototgraph.
They had to have a member of the public play the part of a fictional spy who was to take from one of them a suspicious letter half hidden by a coat. Why did they choose me? Must have been the shades and the porkpie hat!







Blog Archive
View All Blogs