The Cambridge Art Academy Blog: Darwin College Cambridge University - a sketch in pastel | View All Blogs | Back
Darwin College Cambridge University - a sketch in pastel
Posted On: Friday 30th March 2012
Summary: This is a 15 minute pastel sketch of Darwin College Cambridge viewed from "The Backs"

Blog Tags: Sketching Outdoor painting Plein air Painting in Cambridge Pastels painting Townscapes People Buildings Practice painting People in paintings Quick painting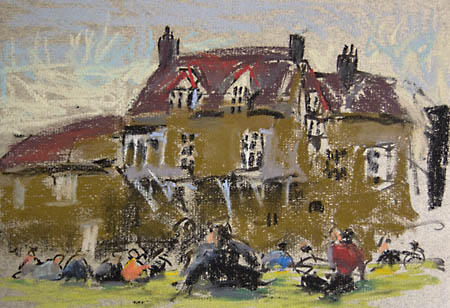 This is the last pastel sketch drawn in Cambridge last Sunday afternoon. I'd met up with a few local artists, and we sat on the grass along with lots of other people, compared notes and sketched.
I was still sketching with soft pastels, starting off with a rough outline using a black brush pen on Ingres tinted pastel paper. 5"x7"
Afterwards we walked across to the pub at Silver Street bridge for a pint and more chat. A nice afternoon all round.
Today we launched the new programme of four videos concentrating on painting snow in oils. For more details please click
here
.
Blog Archive
View All Blogs