The Cambridge Art Academy Blog: Trees and snow - a plein air demonstration in oils near Cambridge | View All Blogs | Back
Trees and snow - a plein air demonstration in oils near Cambridge
Posted On: Tuesday 20th March 2012
Summary: This is another demonstration painting that will form part of Cambridge Art Academy's soon to be released video on how to paint snow in oil paint

Blog Tags: Landscape painting Oil painting Outdoor painting Plein air Painting in Cambridge Cambridge Art Academy Art videos Painting trees Snow Learn to paint Painting tips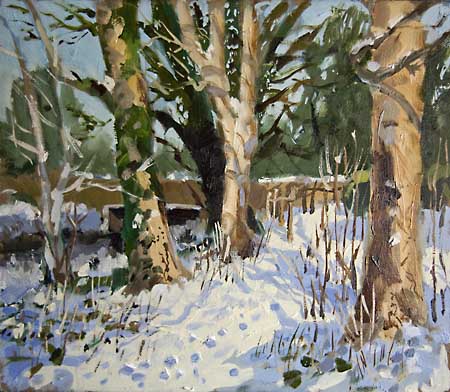 The new video from Cambridge Art Academy on painting snow scenes in oils will be out shortly in the Online Store and this painting is one of three which will be featured as demonstrations.
Filmed on location at Bryon's Pool (near Grantchester in the UK) in the snow, and completed in the studio.
10"x10" oil on board.
P.S. The video set on painting snow in oils is now available. Further information
here
Blog Archive
View All Blogs