The Cambridge Art Academy Blog: Pastel sketches at the David Hockney | View All Blogs | Back
Pastel sketches at the David Hockney
Posted On: Sunday 11th March 2012
Summary: Sitting in front of some large canvases by Hockney of a lane in the countryside painted at different times of the year, I sketched four of them using soft pastels.

Blog Tags: Landscape painting Sketching Painting in London Pastels painting Cambridge Art Academy Simple art Practice painting Painting trees Learn to paint Painting tips Painting tips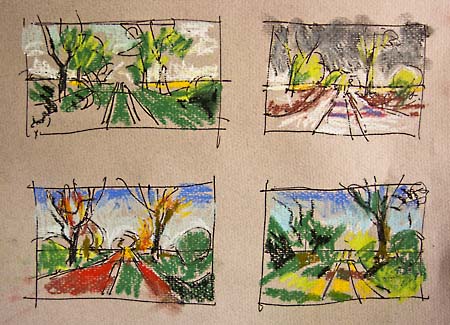 Yesterday I visited the David Hockney exhibition at the Royal Academy in London. Towards the end it got exhausting - there were so many paintings, many of them digitally produced with an iPad.
I took a break and sat down to sketch out in pastels four of his large-ish paintings ("large" is a relative terms when it comes to this exhibition - many of his paintings were MASSIVE!) of a country lane at different times of the year.
I recommend doing this for your own learning. It's one thing to look at artists' work - but often new insights and understanding emerges when you do tiny sketches of the artist's work. In this case I didn't learn anything about Hockney's painting process, but I did become aware of how keenly he must have observed the scene in different lighting and seasonal conditions.
Anyone interested in landscape painting must go to this exhibition.
Blog Archive
View All Blogs