The Cambridge Art Academy Blog: Palette knife urban doodle - memories of George Deakin and Singapore | View All Blogs | Back
Palette knife urban doodle - memories of George Deakin and Singapore
Posted On: Thursday 8th March 2012
Summary: A palette knife doodle on a scrap piece of board in oils - vague memory of Singapore and artist George Deakin

Blog Tags: Oil painting Art techniques Townscapes Buildings Cambridge Art Academy Quick painting Painting tips Painting tips Palette knife

Just to use up some spare paint on my palette I grabbed a small palette knife and did this in a few minutes.
Never waste a few bits of paint. Either mix it together and use it as a grey shade on a new painting - or do what I have done here, and put something down on paper or a scrap bit of board. It's all good practice - and all helps develop your skills in some small way. I don't use a palette knife much, but it's useful to put one in your hands from time to time.
It reminds me of an artist I came across decades ago in Dunster, Somerset, called George Deakin. Using sketch memories of serving in the armed forces in the Far East, he churned out massive numbers of palette knife paintings from his studio. The smell of turps and linseed oil was overpowering as you went round his studio which was stacked with wet paintings. He told me his ambition was to have one of his paintings on the wall of every bedroom in every hotel in the country. Paint was ladled on with a knife.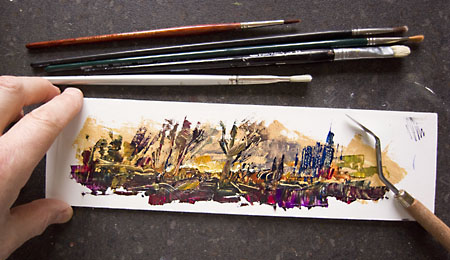 At the time I was absorbed with watercolour - but maybe George sowed the seeds for me of an interest in oil painting which emerged years later.
So this is a little "hommage" to him - drawing vaguely of my own memories of travelling in Malaysia and Singapore in the 1970's. In those days tall buildings were only just starting to be built around the harbour in Singapore. I still have an abacus I bought in the market there.
Another reason I reached for the palette knife is a recent visit I made to the private view of an exhibition of paintings by artist Sylvia Paul (who has recently joined Cambridge Art Academy - welcome Sylvia) in Ely at the
Old FireEngineHouse restaurant and gallery
). She sketches on location in soft pastels, and then works much larger paintings with oil and palette knife using the pastels for reference. The outcome is a refreshing combination of abstraction, representation and imagination.
I hope to get a "conversation with" Sylvia later on this year.
Blog Archive
View All Blogs