The Cambridge Art Academy Blog: Plein air oil painting using a pochade box at St Johns College Cambridge | View All Blogs | Back
Plein air oil painting using a pochade box at St Johns College Cambridge
Posted On: Sunday 4th March 2012
Summary: The last of the paintings done with other artists from the Plein Air Society in late February 2012 in Cambridge. Started on location but completed in the studio.

Blog Tags: Oil painting Boats Pochade painting Plein air Painting in Cambridge Townscapes People Buildings Reflections in water Painting rivers Painting trees Painting water People in paintings Painting tips Painting tips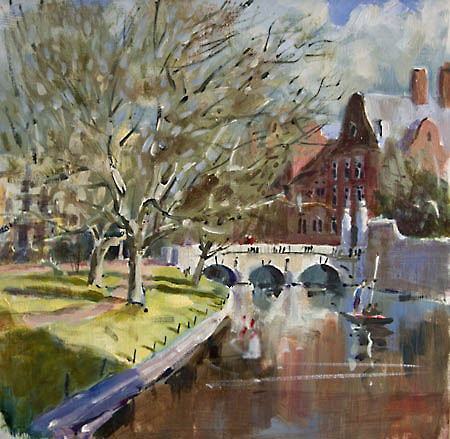 This was the first of the paintings I started with the Plein Air Society members in Cambridge last Saturday, a warm early spring day in February. We got moved on by baliffs from Clare College ("just doin' me job mate") before I had hardly got the underpainting on, and the others were in the same position too. So most of this has been done later in the studio, using my part-done underpainting, memories of the scene and a reference photograph.
The hardest bit about this painting was getting just enough of the pale building behind the trees on the left to show through the many branches without becoming a distraction to the trees themselves in the foreground.
The cold, clear, light of early spring sunshine works quite well though. In the foreground you may notice the thin glaze over the water to hint at the shadow of a tree which is outside the picture on the right hand side. The glaze was made using Roberson's glazing medium and a mixture of cobalt violet (Rowney) and red umber which I know from regular use are fairly transparent oils.
12"x12" oil on gessoed board.
Blog Archive
View All Blogs