The Cambridge Art Academy Blog: Watercolour pencil and fountain pen sketch of Lapwings over water | View All Blogs | Back
Watercolour pencil and fountain pen sketch of Lapwings over water
Posted On: Thursday 23rd February 2012
Summary: Using watercolour pencils for colour and fountain pen for line, I sketched this view over Fen Drayton lakes on the first warm day of the year. A flock of Lapwing added some interest and movement

Blog Tags: Landscape painting Sketching Plein air Painting in Cambridge Watercolor pencils Birds Simple art Painting trees Painting water Pen and ink Painting tips Painting tips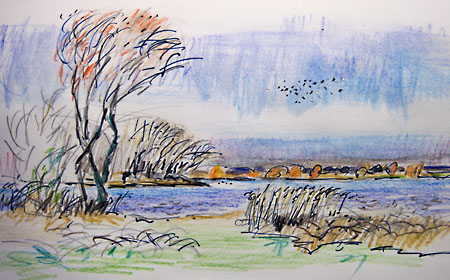 23rd February and the warmest day of 2012 so far in the UK. Nice to be outside sketching - a big contrast from doing the same in the snow only a fortnight ago.
With the sun low in the sky even in the middle of the day, and with the sun behind me, the warm colours of the bare tree branches were really quite strong.
A flock of lapwings were wheeling about. They are wonderful birds in flight in my opinion. With white underparts and black tops to their wings, when they flap around in their unique way, it gives the appearance of lots of lights twinkling on an off. I couldn't get the white effect with my pencils, so a penknife was used to scratch out the surface here and there in tiny "pecks" at the paper.
A tin of watercolour pencils served me well here, and I used my old fountain pen as well for some of the lines. 6"x8" in sketch book.
Blog Archive
View All Blogs