The Cambridge Art Academy Blog: Pastel drawing at sunset on the lake at Denny Abbey | View All Blogs | Back
Pastel drawing at sunset on the lake at Denny Abbey
Posted On: Monday 20th February 2012
Summary: The urge to use draw with pastels on location descending on me yesterday, and this is the result, on a lake location at Denny Abbey near Cambridge UK, and the sun setting.

Blog Tags: Landscape painting Outdoor painting Painting in Cambridge Art techniques Pastels painting Nocturne painting Birds Reflections in water Painting trees Painting water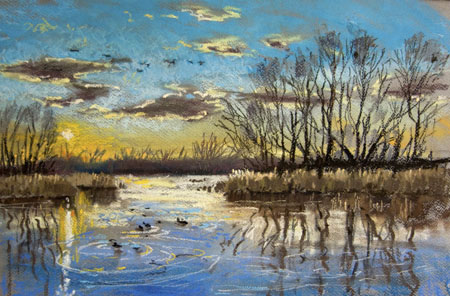 Pastels aren't the best medium for painting outside on the whole. A total disaster if it's raining (not the case with oil painting), and you need to be able to lay out a large number of pastels sticks, unless you are sure in advance which colours you will need.
However, the urge struck to paint outdoors with pastels, so off I went late yesterday afternoon. I like this little lake which is on a commercial estate, deserted on the weekends, and there are always plenty of birds around. I hope it looks like February weather, because it certainly felt like it. My hand were numb by the time I'd finished, even with gloves on.
Pastel on grey paper 18"x12"
Blog Archive
View All Blogs