The Cambridge Art Academy Blog: Winter watercolour at Fen Drayton Lakes bird reserve | View All Blogs | Back
Winter watercolour at Fen Drayton Lakes bird reserve
Posted On: Tuesday 7th February 2012
Summary: Winter in late January, this quick watercolour at Fen Drayton lakes emphasises the warm colouring on the trees with the low afternoon sun coming from behind. The scene looks warm, but in reality is was a cold day.

Blog Tags: Landscape painting Watercolor Outdoor painting Painting in Cambridge Art techniques Birds Cambridge Art Academy Painting trees Painting water Watercolor painting Learn to paint Painting tips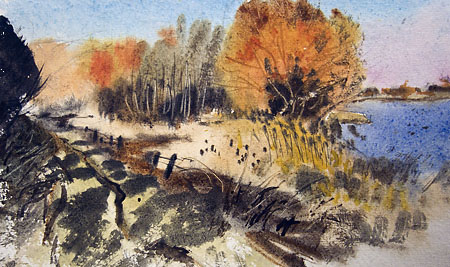 This small watercolour features in the video which forms part of the article which you can access
here
.
I painted this a week ago while visiting the Fen Drayton bird reserve and lakes near Cambridge, UK. What a contrast in weather, colour and mood from the snow scenes I have painted and
posted
in the last couple of days!
I've exaggerated the colours here a bit - this is not an autmn scene - the orange tinge to the bare branches is the merest hint of the first signs of spring. The sap is rising! With the sun behind me, and low in the sky, an extra warmth floods the scene. I have touched in a few birds on the lake. You can't see what they are of course, but they were tufted duck. Over the far side of the lake I spotted a flock of lapwing through my binoculars.
Blog Archive
View All Blogs