The Cambridge Art Academy Blog: Pastel drawing at Pipers Wharf on the River Thames - London | View All Blogs | Back
Pastel drawing at Pipers Wharf on the River Thames - London
Posted On: Saturday 4th February 2012
Summary: This is a small pastel study of boats and workshops at low tide on the river Thames near Greenwich in London at Pipers Wharf

Blog Tags: Boats Outdoor painting Painting in London Pastels painting Reflections in water Painting rivers Practice painting Painting tips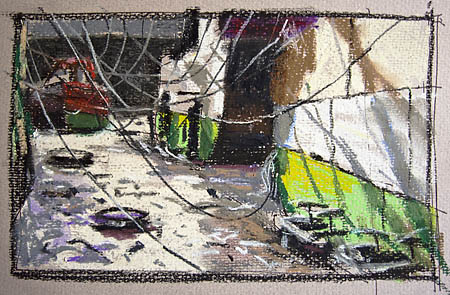 This was a great subject but I had to clamber through mud to get to it. Managed to get mud all over my jacket. It was worth it though because this gap between Piper's wharf and the workshop boats made an interesting subject.
I did a
sketch in pencil on site
, and then this pastel study in the studio to see if it;s worth re-painting a larger version in oil or oil bar. I think it will be.
Blog Archive
View All Blogs