The Cambridge Art Academy Blog: Upper Langridge church, Bath, in watercolour and gouache | View All Blogs | Back
Upper Langridge church, Bath, in watercolour and gouache
Posted On: Thursday 10th March 2011
Summary: I started painting this over ten years ago, and finished it recently. It's a watercolour sketch of a very old church building in the tiny village of Upper Langridge near Bath, in the UK

Blog Tags: Landscape painting Watercolor Outdoor painting Art techniques Buildings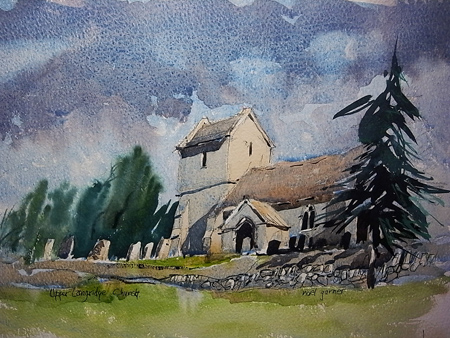 Watercolour 8"x13"
This is another painting that has been half finished for such a long time. A victim of my style of starting plein air and then not getting round to developing and completing in the studio. This one was started at least a decade ago. What's ten years though for a building that may be 100 times that age though?
Anyway, I wetted the whole of the left hand side with clean water, cutting round the grave stones, then stroked into it a strong wash made up up Paynes Gray and Aureolin Yellow. Then as it dried, with a rigger brush, stroked in branches with Paynes Gray and Burnt Sienna. In the foreground I drew in the stones in the wall with a mapping pen loaded with dark paint. Finally some touches of gouache (watercolour plus permanent white) – first to the lighter side of the tree on the right, then some highlights to the stones in the wall, and finally some very pale ocre colour to pick out a few features on the church building itself. I'm satisfied with the result and it's nice to have finished this painting at long last.

The paper is rough and you can see how the pigment has settled in to the grain in the sky. A useful watercolour technique.
Blog Archive
View All Blogs