The Cambridge Art Academy Blog: Mist and sun at Wheal Coates tin mine in Cornwall - pen and pastel | View All Blogs | Back
Mist and sun at Wheal Coates tin mine in Cornwall - pen and pastel
Posted On: Saturday 21st January 2012
Summary: A chilly mist swept up off the sea at Wheal Coates tin mine in Cornwall when I took the reference photograph from which this was painted in pastel and pen

Blog Tags: Landscape painting Plein air Pastels painting Buildings Abstract art Composition Industrial buildings Painting tips
A sort-out of my pastel boxes gave me an excuse to do a pastel study, and this photo reference from a visit to the derelict tin mine at Wheal Coates in Cornwall last year suited the purpose well.
I painted an oil on site here and did some sketching too, so the atmosphere of the place (and the cold) had penetrated my bones. As a result, the photograph conjured up much more than just the colours and shapes of the scene. At the time I was particularly struck by the strong abstract theme of the intersecting paths through the gorse and heather at this place.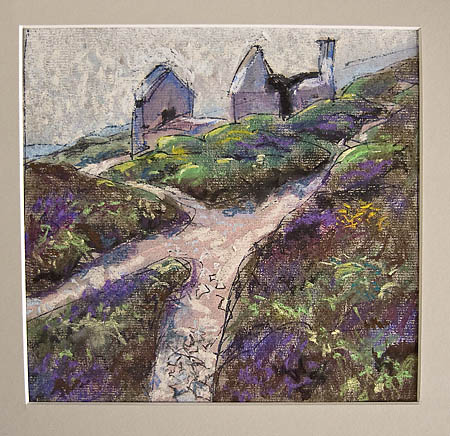 The mist swirled in off the sea even though it was the middle of the day, and when it cleared a little bit, a weak, thin, sun would light up parts of the landscape. Pastels were an ideal medium to try and put this across.
Using a pale brown piece of pastel paper, I completed this in the following steps:
Sketched the basic composition using a fine permanent black marker.
Covered the paper with a variegated pattern of colours using hard ("carre") pastels.
Fixed the whole picture with a fine spray - not too much though - and let it dry for 5 minutes
Brought out some finer details and stronger colours using soft pastels.
Fixed it again.
Finished size 9"x9"
Blog Archive
View All Blogs