The Cambridge Art Academy Blog: Stormy beach at Happisburgh painted with oil bars | View All Blogs | Back
Stormy beach at Happisburgh painted with oil bars
Posted On: Thursday 12th January 2012
Summary: This started as an oil sketch on location at Happisburgh, but developed into a more vigorous treatment of the subject using oil bars

Blog Tags: Oil painting Outdoor painting Plein air Art techniques Oil painting mediums Painting water Oil bar Painting tips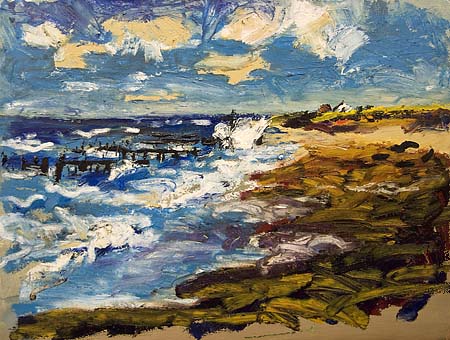 Happisburgh (pronounced "hayesburra") is a village perched on the cliffs on the East coast of England facing the North sea. Over the years it has mostly disappeared under the waves. There are still remnants of houses sticking out from the sand.
On a day like this you could
feel
the power of the sea tugging away at the land. I started this off on location in oils as best I could. One moment the sun shone, the next it was raining hard. Back in the studio, it wasn't working and I put it to one side. Until today, when I still had my chunky oil bars out on the table from yesterday's work on "Wild Wood". You can't work small with large bars like this, so I launched in with bold broad strokes and found that it suited the mood of the scene really well.
Have a try with oil bars if you haven't already done so. It's really refreshing and I found it broke me right out of the "think detail" mindset which is so easy to slip into.
Oil bar on gessoed board after scraping off thin oil paint. 10"x8"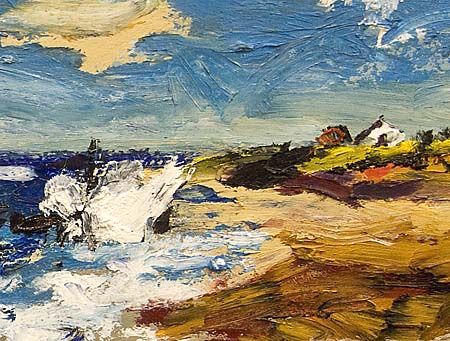 Blog Archive
View All Blogs