The Cambridge Art Academy Blog: Watercolour pencil sketch of a Woodpigeon | View All Blogs | Back
Watercolour pencil sketch of a Woodpigeon
Posted On: Monday 9th January 2012
Summary: A sketch on location of a woodpigeon high in a tree, drawn with pencil and watercolour pencils.

Blog Tags: Sketching Outdoor painting Painting in Cambridge Watercolor pencils Birds Watercolor painting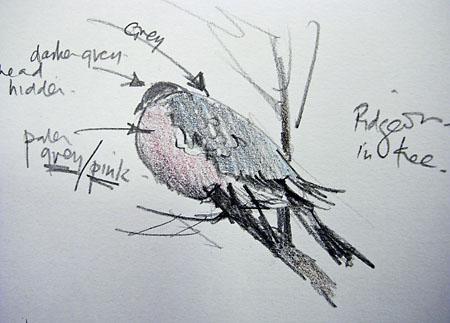 I said I'm going to work on my bird painting in 2012, and this is my January start - a woodpigeon in a tree. It must have been cold up there because he had his head tucked well down. I hand-held my little pair of Trinovids as steady as possible, and the bird kindly didn't move much. But I watched and waited until his beak appeared for a moment.
The pale breast feathers had a distinctly rosy tinge and the back a hint of blue in the grey. The head was also grey but a little darker.
I did this mostly with a soft pencil and then added delicate colour with watercolour pencils. As you can see I did not use any water - just shaded the colour with the pencils held at about 45 degrees.
Winter is a good time to paint birds in trees because with no leaves they are easy to see.
Blog Archive
View All Blogs