The Cambridge Art Academy Blog: Dawn plein air painting in Elvedon Forest in oil | View All Blogs | Back
Dawn plein air painting in Elvedon Forest in oil
Posted On: Sunday 1st January 2012
Summary: At dawn on family Christmas holiday with my family at Elvedon Forest Center Parcs, I couldn't wait to get out and paint plein air outside our chalet

Blog Tags: Landscape painting Oil painting Outdoor painting Plein air Nocturne painting Painting trees Painting tips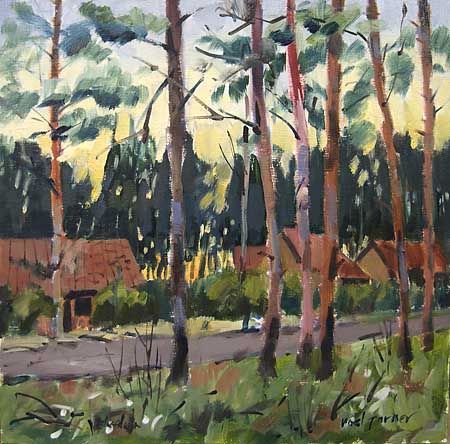 Twelve of us arrived at Center Parcs (Elvedon, Thetford Forest) on 23rd December, and being just a little bit excited, I was up at dawn on Christmas Eve to paint something plein air.
Anything
! Not difficult really since all I had to do was step outside the front door of our chalet and this is exactly what was there. A bit of judicial editing and simplifying of course.
At this time of the day the sky rapidly lightens - even in 30 minutes - and you lose the strong contrast between the dawn horizon and the dark trees. So I made a mental note of the scene as it was when I started, and refused to be tempted into lightening the foliage of the trees as the sky got brighter.
Oh, and a little tip - easily forgotten
. Generally the flat ground is the lightest part of the painting next to the sky itself, since the light from the sky is striking it at right angles. If you look at my painting through screwed up eyes, you will see that's true here, closely followed by the slopes of the chalet rooves.
Also, note
how I have freely altered the light and dark (values) on the tree trunk so that they contrast with whatever is behind them. And if the value IS the same, I have made sure that the colour (hue) is different from the background so that the tree trunks still come forward in the picture plane.
Much more guidance on painting trees is available in Cambridge Art Academy video:
Blog Archive
View All Blogs