The Cambridge Art Academy Blog: Night time pencil sketch of Westminster Abbey in London | View All Blogs | Back
Night time pencil sketch of Westminster Abbey in London
Posted On: Friday 30th December 2011
Summary: This pencil sketch of Westminster Abbey in London, at night, was the last of my day spent sketching in London on the 21st December 2011

Blog Tags: Sketching Plein air Painting in London Townscapes Nocturne painting Buildings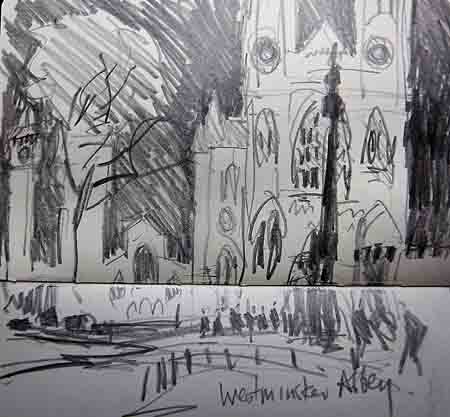 After painting the Houses of Parliament in watercolour as the daylight faded away, I walked across Westiminster Bridge to do a night time sketch in pencil of Westminster Abbey with Big Ben in the background.
This was done in a Moleskine notebook, spread across two pages.
After this we walked over to Leicester Square to meet other members of my family for a meal. Arrived back in Cambridge in the wee hours after an exhausting but artistically stimulating day spent painting and sketching in London.
Blog Archive
View All Blogs