The Cambridge Art Academy Blog: Watercolour of Westminster Bridge and Houses of Parliament London painted at night | View All Blogs | Back
Watercolour of Westminster Bridge and Houses of Parliament London painted at night
Posted On: Thursday 29th December 2011
Summary: A watercolour sketch of the illuminated Houses of Parliament in watercolour from the South Bank next to Westminster Bridge, as night fell.

Blog Tags: Watercolor Outdoor painting Pochade painting Painting in London Townscapes Nocturne painting Buildings Reflections in water Quick painting Watercolor painting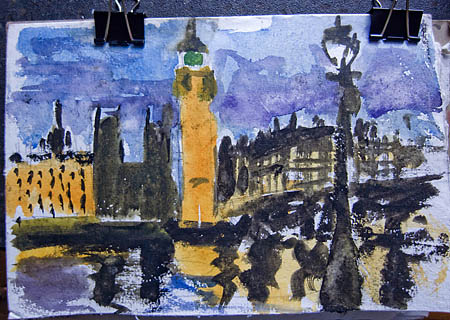 After getting off the Thames Clipper we enjoyed a late lunch, but by the time I had walked back out to the River Thames, the daylight was rapidly fading, and the Houses of Parliament were now illuminated against the darkening sky.
But I was determined to try at least one painting with colour in my day of sketching in London. It was almost impossible to see what I was doing; I just had to trust to experience that my colours and values were about right. So here is my "finished" watercolour - untouched from when I packed my things away on the London Embankment at Westminster bridge. I tell the story in a video
here
.
Watercolour and pencil on paper 8"x11"
Blog Archive
View All Blogs