The Cambridge Art Academy Blog: Nocturne painting in oil - The Bath House Bene't Street Cambridge | View All Blogs | Back
Nocturne painting in oil - The Bath House Bene't Street Cambridge
Posted On: Wednesday 14th December 2011
Summary: A small pochade nocturne painting in oil on location in Bene't Street, Cambridge, featuring the Bath House pub and a rather pretty-in-pink lingerie shop in the distance.

Blog Tags: Oil painting Outdoor painting Pochade painting Plein air Painting in Cambridge Townscapes Nocturne painting People Buildings Cambridge Art Academy People in paintings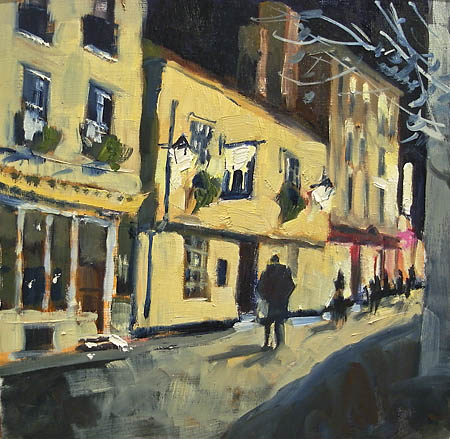 Earlier in the afternoon I had been painting from the top of St. Mary's tower. Walking back to the car park as dusk fell, clearly there was a lot of traffic congestion going on. So I walked back into Bene't Street and painted this small nocturne in oil using my pochade painting box with tripod. With very little light available this was not easy, but interesting. Had I planned it I would have brought a torch. I touched in the figures and lightened up the highlights back in the studio.
In the centre is a pub called the Bath House, and in the distance a lingerie shop, rather fetchingly decked out in pink.
Oil on board 12"x12"
Blog Archive
View All Blogs