The Cambridge Art Academy Blog: Curlews and Sunken boats on the Norfolk coast - sketches at Titchwell bird reserve | View All Blogs | Back
Curlews and Sunken boats on the Norfolk coast - sketches at Titchwell bird reserve
Posted On: Tuesday 6th December 2011
Summary: Yesterday I was in Titchwell RSPB bird Reserve on the North Norfolk coast watching birds and sketching them with well known birding author David Chandler. Curlews and sunken boats were among the highlights I got to sketch

Blog Tags: Watercolor Boats Sketching Plein air Art techniques Watercolor pencils Birds Painting rivers Art videos Painting water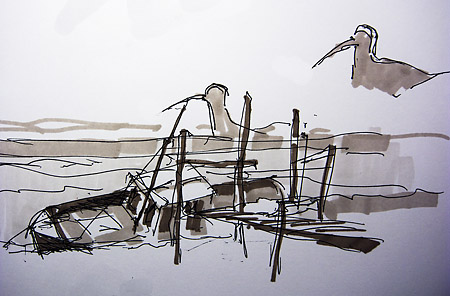 It's always a pleasure and privilege to go out bird watching with my friend David Chandler who is the author or co-author of more than 10 bird books. On this occasion we were at Titchwell RSPB bird reserve on the north Norfolk coast in the UK.
I'm by no means an expert but among the birds - native and visiting - were the following:
Curlew, Teal, Golden Plover, Lapwing, Redshank, Brent Goose, Shoveller, gulls of various kinds, Pintail, Ringed Plover, Black tailed Godwit, Little Egret. Also we saw a bird opening just the tip of its long bill. Pretty neat, but I forget what David said its name was.
Here is a short video shot at this location:
Blog Archive
View All Blogs