The Cambridge Art Academy Blog: Wet-in-wet watercolour sunset of Putney Embankment in London | View All Blogs | Back
Wet-in-wet watercolour sunset of Putney Embankment in London
Posted On: Sunday 4th December 2011
Summary: This view from Putney Bridge in London is a watercolour that makes much use of the wet-in-wet technique. The painting was started in location as the sun was setting over the Thames, and completed much later in the studio. It's a commission which will be framed and presented to the client in time for Christmas.

Blog Tags: Watercolor Boats Outdoor painting Pochade painting Plein air Painting in London Townscapes Nocturne painting Buildings Reflections in water Painting rivers Painting water Watercolor painting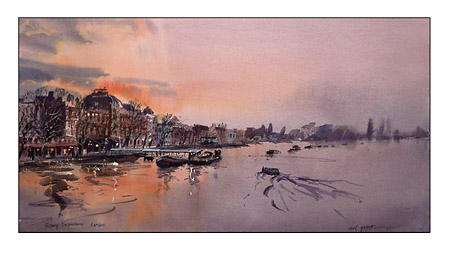 This watercolour painting of Putney Embankment from Putney bridge in London is a recently completed commission. It's 13" x 21" on heavywieght Fabriano NOT paper.
I started this off on location with broad sweeps of wet-in-wet oranges, yellows and purples on damp watercolour paper.
Back in the studio further washes followed, and the painting completed with a combination of indian ink detail with a pen, and highlights in gouache body colour.
Blog Archive
View All Blogs