The Cambridge Art Academy Blog: Painting central London in watercolour from Waterloo Bridge | View All Blogs | Back
Painting central London in watercolour from Waterloo Bridge
Posted On: Friday 2nd December 2011
Summary: This is a large watercolour painting looking towards Blackfriars bridge in central London viewed from Waterloo Bridge

Blog Tags: Landscape painting Watercolor Boats Outdoor painting Plein air Painting in London Art techniques Townscapes Buildings Reflections in water Painting rivers Painting water Watercolor painting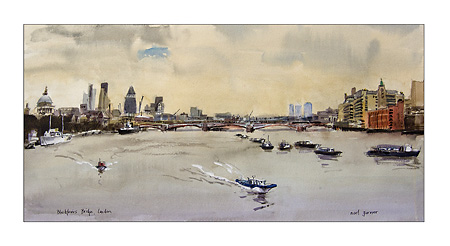 This watercolour painting of Blackfriars bridge and central London from Waterloo Bridge is a recently completed commission. It's 13" x 21" on heavywieght Fabriano NOT paper.
The ten minute video showing how it was done, and the techniques used, is a bonus free item with purchase of "Paintbox 2: How to paint townscapes and buildings in watercolour." available in the
Products
section.
The bonus video discusses techniques such as :
Using a stencil to remove and lighten selected areas of colour.
Using white gouache to pick out highlights.
Using a dip pen with Indian ink to put really sharp detail into your painting.
Making your own "sliding" temporary frame to judge during the painting process how it might best be framed on completion.
Blog Archive
View All Blogs