The Cambridge Art Academy Blog: Watercolour Christmas card of Darwin College Cambridge in the snow | View All Blogs | Back
Watercolour Christmas card of Darwin College Cambridge in the snow
Posted On: Wednesday 23rd November 2011
Summary: This watercolour of Darwin College Cambridge is a fiction really. There's no snow at the moment and I adapted this from a photograph I took in the middle of summer

Blog Tags: Watercolor Art equipment Painting in Cambridge Art techniques Townscapes Gouache Buildings Cambridge Art Academy Reflections in water Painting rivers Painting trees Painting water People in paintings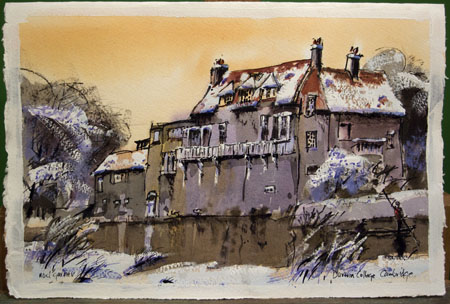 A friend asked me if I would paint a Christmas card of a Cambridge scene in watercolour as a Christmas card. I like this viewpoint of Darwin College, so it was an obvious choice.
I cut a half imperial sheet of watercolour paper in half and then folded it to give a card effect approximately 11"x8". Nice thick piece of paper so it works well with a "hinge" at the top.
There's no snow around at the moment so this version is pure imagination on my part. Well, not quite; I had a photograph on my computer of this view in mid summer.
There is an article for Cambrige Art Academy members
showing the summertime photograph and how I changed it to a snow scene. Here's the
link
if you are member, and if you aren't a member yet, why not sign up? It's totally free.
Blog Archive
View All Blogs