The Cambridge Art Academy Blog: Dying rose painted in fifteen minutes using water mixable oil paint | View All Blogs | Back
Dying rose painted in fifteen minutes using water mixable oil paint
Posted On: Monday 21st November 2011
Summary: A demonstration of a flower painting of a dying rose using water mixable oil paint. It shows the "cutting in" technique to produce an impressionistic effect with hard and soft edges. The total time to produce this was fifteen minutes.

Blog Tags: Oil painting Outdoor painting Pochade painting Plein air Painting in Cambridge Still life Art techniques Flowers Composition Water-mixable oils Quick painting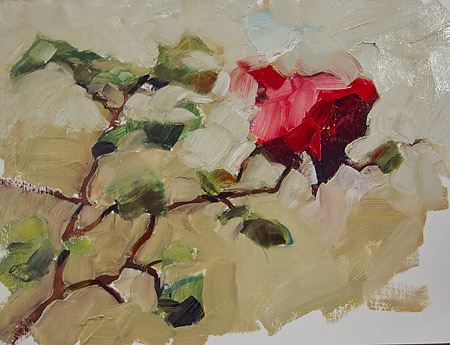 In complete contrast with the painting of the clematis and roses that took me six months from start to finish - this one was done in 15 minutes start to finish. The video is available to level 3 members, but here's a photo of the finished oil sketch.
Using water-mixable oil paints here, mixed from the tube with only a little medium to make it spread, I was working with nice juicy thick paint.
To start with (late afternoon by the way and the light was fading - hence the high speed painting process) I blocked in the main shapes very roughly - the rose, leaves and stems, and then cut back the "negative shapes" of the background using a pale mixture of Yellow Ocre, Titanium White and Payne's Grey. Later, towards the top, I went over the background again with a paler mix of the same but adding Cerulean Blue, in order to suggest the presence of a cooler light direct from the evening blue sky.
Finally a little bit of brown-red on some leaves nearest the bloom to suggest a hint of reflection off the red rose onto the shiny parts of the leaves. Painted on oil paper pad, 12" x 8".
Blog Archive
View All Blogs