The Cambridge Art Academy Blog: The Music lesson by Vermeer - sketch at the Fitzwilliam museum | View All Blogs | Back
The Music lesson by Vermeer - sketch at the Fitzwilliam museum
Posted On: Thursday 17th November 2011
Summary: I did this sketch in front of one of Vermeer's most famous paintings, "The Music Lesson". There was a big crowd - but nobody else with a sketchbook!

Blog Tags: Sketching Painting in Cambridge Art techniques Pastels painting Music People Cambridge Art Academy Painting interiors People in paintings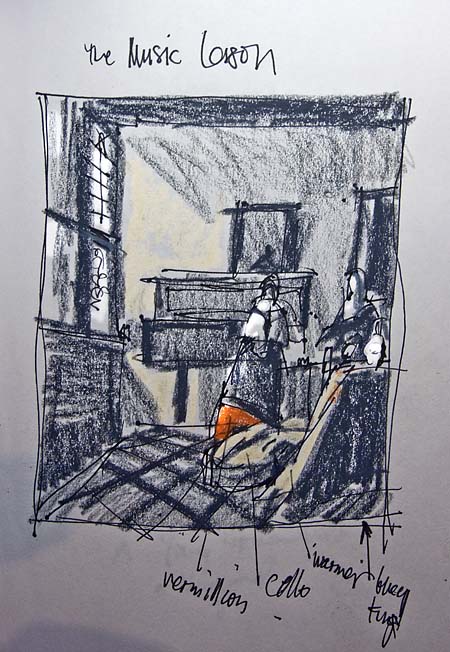 I sketched this in crayon and sanguine carre pastel in front of the original painting which is on show at the Fitzwilliam Museum here in Cambridge (November 2011). There was a big crowd milling around, but not so bad that I couldn't use my sketchbook. Materials used were fine black pen, neocolour water-soluble crayon and carre pastel.
There's not a lot of colour - it's all very subdued and with a simple light-source - with the exception of the vermillion dress of the student. I only had one coloured stick, and that was sanguine - but that was close enough.
What can I say about Vermeer? A week later, my recollection is that I have visited this house - been inside the room. Such is his skill in portraying the light, stillness, and sense of place. This is art beyond "mere" technical and compositional skills.
Blog Archive
View All Blogs