The Cambridge Art Academy Blog: Cambridgeshire Barn at Peckover House painted in watercolour | View All Blogs | Back
Cambridgeshire Barn at Peckover House painted in watercolour
Posted On: Monday 7th November 2011
Summary: A grey day still gave plenty of color contrast to paint this thatched Cambridgeshire brick barn in the grounds of Pekover House.

Blog Tags: Watercolor Outdoor painting Plein air Townscapes Buildings Industrial buildings Watercolor painting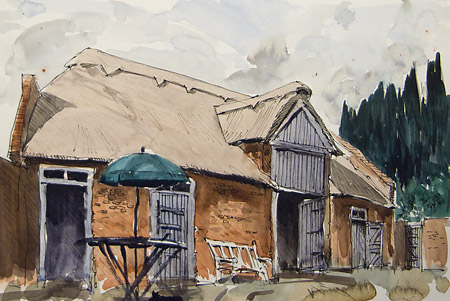 This thatched Cambridgeshire brick barn is in the grounds of Pekover House, once the home of Octavia Hill, a Victorian philanthropist who with others founded the UK's National Trust.
The National Trust does a superb job of conserving some of the most interesting historic buildings and landscapes in the UK.
I painted this while we had a coffee and some food - a commont scenario for me to paint I must admit. There were people in the scene but I wanted to focus on the building. The perspective on a few features is not quite right but, hey, sometimes that happens!
Blog Archive
View All Blogs