The Cambridge Art Academy Blog: Painting in oil from the same window where Monet painted Rouen Cathedral | View All Blogs | Back
Painting in oil from the same window where Monet painted Rouen Cathedral
Posted On: Saturday 5th November 2011
Summary: This was an amazing find. The exact first floor window in Rouen from which Monet painted his famous oil studies of the west front of the Cathedral. And I got to paint from the same spot! Awesome

Blog Tags: Oil painting Sketching Pochade painting Art techniques Townscapes Buildings Painting in France Simple art Quick painting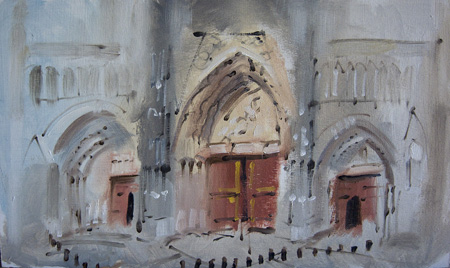 This really is the last post from my painting holiday in France.
And it really was the highlight. Standing on the
exact
spot where Monet painted his many studies of the west front of Rouen Cathedral. It's on the first floor of the tourist information office.
I walked into the foyer, saw some stairs and marched straight up to the first floor. The worst that could happen was that I would be told to get out! But no! I very nice woman in the office said there would be no problem in my painting from the window from which Monet painted, and she showed me into the room.
Free of charge, available to anyone; just not advertised as such.
I did this oil sketch from the window in a very different style from the one I had done earlier in the day, focussing just on the three doors as you can see here. I've done a video of the room, the view from the window, and me painting as well; it's available free to level 2 members of Cambridge Art Academy.
Blog Archive
View All Blogs