The Cambridge Art Academy Blog: Sketching session at Welney bird and wildlife Reserve in Cambridgeshire | View All Blogs | Back
Sketching session at Welney bird and wildlife Reserve in Cambridgeshire
Posted On: Thursday 3rd November 2011
Summary: Most of this day at Welney bird Reserve was spend in lectures, but I had time to get a few very short sketches done at the lunch break.

Blog Tags: Landscape painting Sketching Outdoor painting Plein air Buildings Mixed media Birds Cambridge Art Academy Painting rivers Practice painting Painting water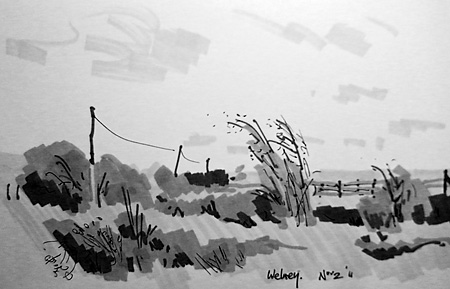 I was at the Welney Wildlife and bird Reserve to hear several well known UK photographers talk about their work.
At lunchtime however there was time for me to get out and do a couple of sketches. The first one was started using several grey spirit-based markers and completed with black pen.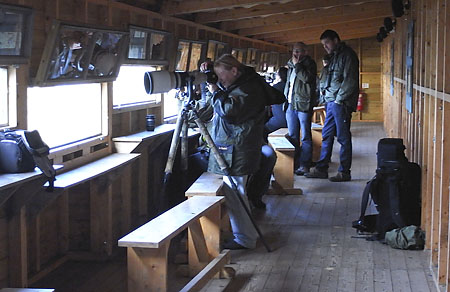 The second used the same materials, but for a very different type of subject. Other people in the "hide" were enthusiastically pointing their hardware at a peregrine falcon which apparently (I had no binoculars with me) was devouring some smaller and weaker bird - what exactly it was being the main topic of conversation.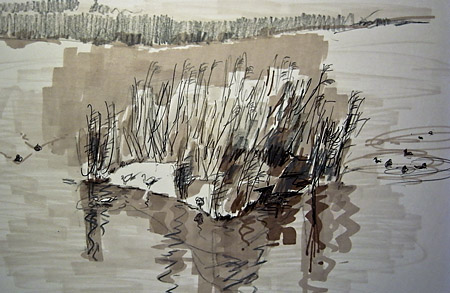 You don't need binoculars to paint birds "live", as long as they are not the main subject of the painting or sketch - as here. I like the way there was a small ramp on this little island that the birds were using to stand and to launch into the water from, Although the birds are a small featurem they are important to the overall composition - in fact without them it would be quite uninteresting.
If you'd like to see the tips I picked up from the speakers at the presentations during the day,
click here
.
And the short video I shot as well on the day can be
viewed here.
Blog Archive
View All Blogs