The Cambridge Art Academy Blog: River Thames at Tadpole Bridge Oxfordshire painted in oil | View All Blogs | Back
River Thames at Tadpole Bridge Oxfordshire painted in oil
Posted On: Monday 31st October 2011
Summary: A painting in oil on board at Tadpole Bridge near Oxford, Oxfordshire.The River Thames is about sixty miles above London at this point. 10"x10"

Blog Tags: Landscape painting Oil painting Outdoor painting Pochade painting Plein air Cambridge Art Academy Reflections in water Painting rivers Composition Painting trees Painting animals Painting water People in paintings Painting in the rain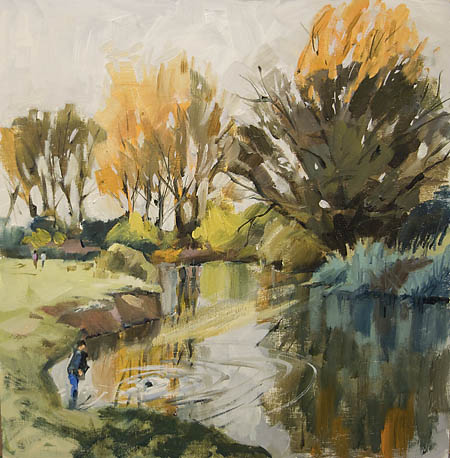 There's a bit of a story behind this painting. It was my sister and brother-in-law's 20 wedding anniversary on Sunday, and we all plotted to meet up somewhere between Cambridge and Bath (where they live) - but my sister wouldn't be in on it.
She thought she was out for the day with her man, except that 100 miles from home they would be walking along the River Thames in the countryside and they would spot an artist in the distance painting a river view. And when she got closer, hey, it was her brother! What an amazing coincidence.
Well, it all worked a treat except that it started raining a bit. I got a small painting done in a beautiful location.
We went off to have lunch in a village pub that was built 500 years ago as a chantry by one of the Oxford colleges, and rented out on condition that if the dons had to evacuate from the University because of "pestilence" they could march in and take it over for themselves. Great food. It was in Fyfield.
Blog Archive
View All Blogs