The Cambridge Art Academy Blog: Drainage ditch in the Fens Cambridgeshre painted in watercolour | View All Blogs | Back
Drainage ditch in the Fens Cambridgeshre painted in watercolour
Posted On: Sunday 30th October 2011
Summary: A scene painted in watercolour painted in the fens of Cambridgeshire near the village of Cottenham

Blog Tags: Landscape painting Watercolor Outdoor painting Pochade painting Plein air Painting in Cambridge Mixed media Cambridge Art Academy Reflections in water Painting trees Painting water Watercolor painting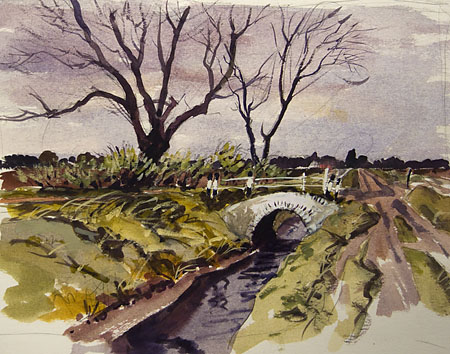 Trees are shedding their leaves and battening down the hatches for winter. And the wind gets up some speed sometimes here in the flatlands of East Anglia.
In this watercolour the scene is lit by an almost wintery sun, The undergrowth that usually fills the banks has been cleared away. and the ditch dredged to aid the flow of water. The whole scene looks rather stripped bare.
I emphasised the bare trees and caught the far distance as it was overshadowed with thick cloud. The bridge was picked out with gouache made from watercolour and permanent white.
12"x8"
Back to the France holiday for the last day, tomorrow.
Blog Archive
View All Blogs