The Cambridge Art Academy Blog: Pen and crayon sketch in Place de Lt Albert Rouen | View All Blogs | Back
Pen and crayon sketch in Place de Lt Albert Rouen
Posted On: Friday 28th October 2011
Summary: Rouen is a painter's paradise if you like all things old architecture. Strong lighting made for strong contrasts in this sketch in pane and crayon.

Blog Tags: Sketching Outdoor painting Plein air Townscapes Buildings Painting in France Painting tips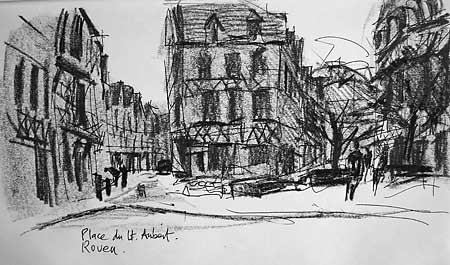 On day 10 of my painting holiday in France, Now in Rouen and lunch in the old town just about anywhere provides any number of sketching and painting compositions. Wow, would I like to go back and paint some more here!
Sun high in the sky means that the vertical planes of the building are the darkest element, and the street surface almost as light as the sky. That, and the height of the buildings gave a cliff- like appearance.
As always, pen and water-soluble crayon are indespensible sketching tools for me.
Blog Archive
View All Blogs