The Cambridge Art Academy Blog: Oil pochade sketch of the gatehouse at Carrouges Chateau | View All Blogs | Back
Oil pochade sketch of the gatehouse at Carrouges Chateau
Posted On: Saturday 15th October 2011
Summary: I started this series of blogs with a sketch of the gatehouse at Carrouges Chateau. But that was really a warm up for this, another view of the gatehouse, with the chateau on the right.

Blog Tags: Oil painting Outdoor painting Pochade painting Plein air Buildings Painting in France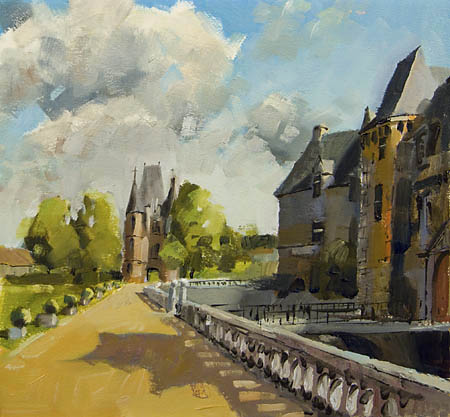 Carrouges is a small hilltop village in Normandy, and the day I painted this view of the chateau was market day. To get to the castle you go down a long drive, The view I have chosen to paint in oils - with the pochade box again - is in the same vein. Lots of straight lines. Formality is definitely the thing at the chateau. The chateau itself was dark and foreboding - and massive.
So when it came to chosing a viewpoint - and I walked all the way round the building - I decided that it was impossible to paint the whole chateau.
I spent about 45 minutes gettting this far on location, took a reference photo and finished off several weeks later in the studio - probably at least another hour over two sessions.
The hardest bit of this was getting the shadow on the pathway right. In the shadow there were vibrant colours, and before I was happy I had scumbled over it three times with contrastng muted colours.
I used the side of a palette knife to do the thin lines.
Blog Archive
View All Blogs