The Cambridge Art Academy Blog: Small oil painting of the Square at Ferte-Mace Normandy France | View All Blogs | Back
Small oil painting of the Square at Ferte-Mace Normandy France
Posted On: Thursday 13th October 2011
Summary: The weather was overcast when I started this small oil painting in the square at Ferte-Mace. The sky remained a greeny-grey, and it influenced all the colours in the scene. Nice to paint though.

Blog Tags: Oil painting Outdoor painting Pochade painting Plein air Townscapes Buildings Painting in France
After buying some fabulous looking cakes (Day 8 of my painting holiday) at the Patisserie, I strolled over the road, bought a coffee and stood outside the cafe and painted this view of the square at Ferte-Mace in oils.
The weather was dry but overcast and the colours were quite muted, but I liked that, and when the sun broke through a few times I let that highlight the war memorial which was a massive affair.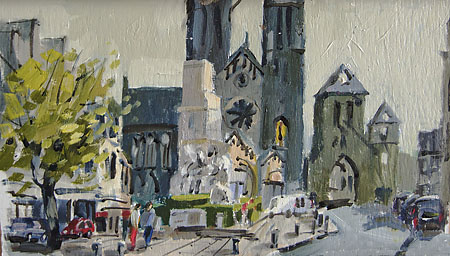 Part way through the owner of the Patisserie came over with a camera and photographed me painting. She said it would appear in a local shop window along with other local news. Wow, I hit the local headlines in Ferte-Mace! She promised she would send me a copy, and true to her word, they arrived a few days ago.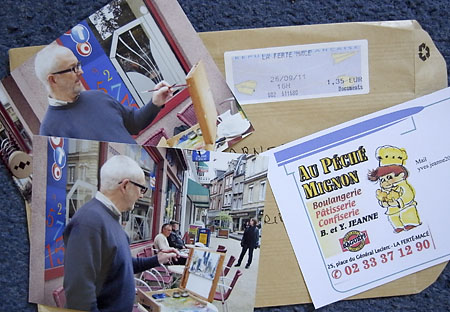 Blog Archive
View All Blogs